Want to start a healthy lifestyle but don't have time for gym workouts? We all know that motivation is one of the key factors on the road to success, but it alone is not enough. On the other hand, hectic daily life does not allow us to be fully committed. These days your smartphone is enough to help you set proper goals, choose the right workout regime as well as track your progress without wasting time in gyms. Let's take a look at popular, ranked among the best fitness and nutrition apps that will teach you how to start a healthy lifestyle and help you achieve your set goals.
Apple Fitness+
Free 1 month trial, $79.99 per year; $9.99 per month
Apple Fitness+ is an app that brings together several workout collections and fitness programs. It is announced by Apple Inc. After subscribing to the app, you get access to a catalog of workouts including Cycling, Strength, treadmills, Yoga, and more. In addition, to select workout options, you get the ability to measure your heart rate and calories burned. These are shared from your Apple Watch to your iPhone, iPad, or Apple TV as you workout, and sync to your daily activity data when you're done exercising. And that's not all. For meditation enthusiasts, Apple Ftiness+ provides the ability to participate in meditations-five, ten, or twenty minutes in length. They are designed to help you develop a simple meditation routine and improve your well-being.
MyFitnessPal
Free trial, $49.99 per year; $9.99 per month
MyFitness Pal is a good fit for people who like to track their eating habits. The app has the largest database of nutritional values and calories for millions of food types , tracks diet and contains more than 350 exercises. It keeps track of the calories consumed and thus helps in proper implementation of your diet. Allows users to scan product barcodes and thus get nutritional information. The meal planning tool in the app even allows you to customize your menus based on your goals and target calorie intake.MyFitness Pal also has a paid version. It's available for IOS and Android.
FitBit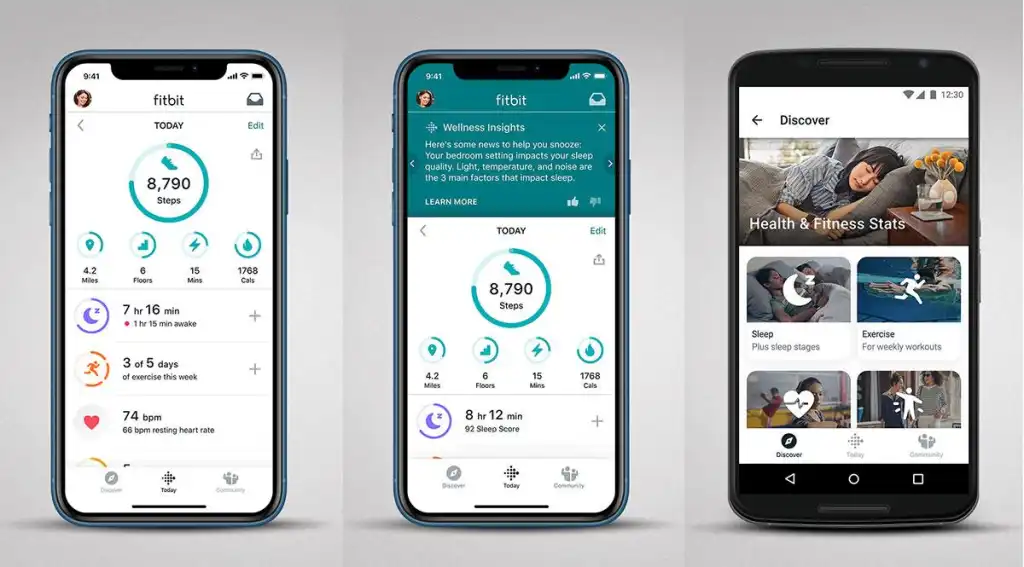 Free trial, $80.00 per year; $9.99 per month
Fitbit, a company known in the market for its smartwatches, offers a fitness app for those who want to track their activity and stay fit. The app provides video and audio workouts designed for the gym, as well as at home or outside. One of the benefits of the app is, that customers can benefit from personalized recommendations based on entered fitness data. The App features extensive workout content on Fitstar. After the updates provided by Fitbit and based on the entered fitness data, you can now also benefit from re-purposed videos and new audio workouts.
Strong
Free trial, $4.99 per month , $29.99 per year
The Strong app is suitable for fitness enthusiasts. The platform offers more than 200 workouts with a variety of equipment, and the bonus here is that you can create your workout program and record an unlimited number of your workouts for free. The advantage of the app is that it has a timer for counting down the time you use a particular device in the gym. The app stores all your workouts and achievements from the moment you install it and automatically backs up the data to the cloud. This capability allows you to improve the program and individual exercises as needed. Strong is available for iOS and Android
Gymshark Training
Тhe GymShark Training app is completely free, with no advertising or additional fees. It offers a large library of workouts and plans. GymShark Training offers workouts and plans for athletes, as well as suitable for home/gym workouts. It allows users to create their workout plans , and also perform some of the set step-by-step workout videos. Data can be synced with Apple Health to track progress.
Conlcusion
Fitness apps are very relevant these days because they allow you to work out on your own. A lot of these apps encourage home workouts by taking on the role of your digital personal trainer, making them useful for a lot of people, especially those who are new to the sport. If you don't like any of the apps mentioned above, you can take a look at the best workout apps for 2021. And in case, you want to take a bigger step and create your app, we can help you. Don't hesitate and contact us.